Shibuya is the ward of Tokyo that encompasses music, fashion, and food. It's a shopper's paradise, and it has a thriving nightlife as well as an entertaining scene for urban youth. Shibuya is big and exploring it on foot may take time. Here are 5 top things to do in Shibuya, Tokyo.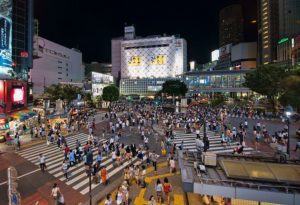 Shibuya Scramble
Shibuya Station is a pretty large station with many lines connecting. It is a hub obviously and there is a view of Shibuya crossing right here at the window. One of the iconic images of Tokyo which you will see in movies and travel photos is the Shibuya crossing aka Shibuya Scramble. This has to be like the biggest district crossing in the world, I don't even think Times Square can equal it.
As much as it is impressive to see Shibuya scramble from above, it is equally thrilling to cross the scramble and feel a part of the massive pedestrian sea. If the view from the station wasn't enough, then you could cross the street to the Tsutaya building. The building has its entertainment from music, books, and DVDs but the view from the second floor of Starbucks is front row seating. Grabbing a window seat there can be tricky, if you happen to manage to steal a seat there please observe Japanese etiquette when there's limited seating. Don't be a space hog, have your drink and go.
Hachiko Statue
When you get to Shibuya Station, you will see a statue of a dog. Hachiko was a faithful dog and his master loved him like a son. So every day Hachiko will go to Shibuya Station to meet his master and one day his master didn't arrive. Hachiko waited at Shibuya Station each day for his master for seven years. He was immortalized for this reason.
Center Gai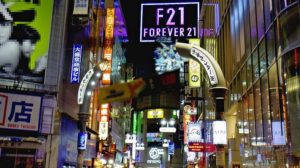 Right next door to the Tsutaya building is Center Gai. The street is recognized by its colorful arch and it is called Center Gai because it's the center of Shibuya. It's lined with shops and fast-food restaurants. It's a lively youthful area and the clubs here stay open until dawn.
VR Park Tokyo
There is a VR experience where you get to be in your favorite game. If you are into gaming, VR Park Tokyo is a several story game center. It may not be your cup of tea until you step inside because the games here and the prizes sure look fun.
Mega Don Quijote
My favorite one-stop shopping in Tokyo is Don Quijote. It is a multi-level mall selling anything you can imagine at discount prices. Shibuya, however, has a mega Don Quixote – it's open 24 hours and has tax free counters for tourists if you bring your passports.
Shibuya is quite large with more things to do than I can list, so let me know what you would recommend.